It's hard to imagine how popular BTS is in Middle Eastern countries. After Jungkook's performance in Qatar recently, he showed how positive BTS' influence abroad and this region is.
Even the prince of the Middle East countries - who watched Jungkook's wonderful performance stage, had to give him a lot of praise. This is a great and special honor that Jungkook received with his talent.
Here's what the princes of the Middle East had to say about Jungkook after the opening ceremony of the Qatar 2022 World Cup:
Before Jungkook actually performed at the Qatar 2022 World Cup Opening Ceremony, he received a lot of criticism for saying that a Korean artist and K-pop idol like him would not be suitable to perform in this stage. It is also ironic that Jungkook was able to stand on that stage thanks to Hyundai sponsoring the World Cup.
But despite all the unfair criticism, Jungkook still stood proudly on the stage of the 2022 World Cup opening ceremony and sang to the Dreamers. Of course, his achievements make everyone admire. The whole world had to talk about him days after the opening ceremony took place.
In particular, even the Princes of Middle Eastern countries - who have directly watched the opening ceremony of the 2022 World Cup, must also give praise to Jungkook's performance. The royal families from all over the world now Jungkook and are aware of his exceptional talent.
One of them is Crown Prince of Jordan and the son of King Abdullah II, Hussein bin Abdullah II. He even shared JungKook's FIFA Opening Ceremony Performance on his Instagram story two days ago with the caption: 'Extraordinary version we're so proud of this'.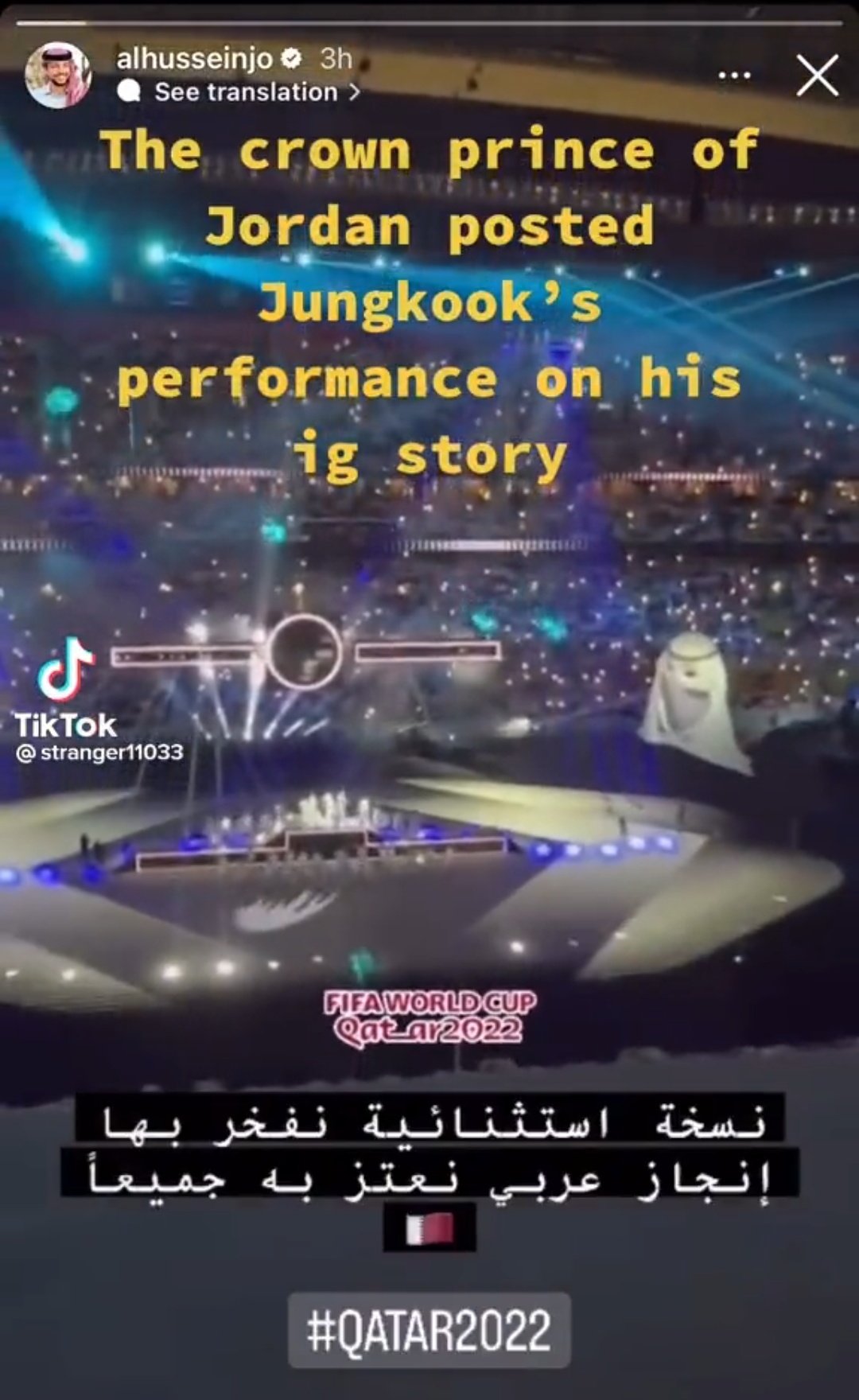 Another prince is Crown Prince of Dubai, Hamdan bin Mohammed Al Maktoum, popularly known as Fazza. He attended and saw Jungkook performing as he shared a video clip from FIFA World Cup Opening Ceremony. He showed himself to be very appreciative of Jungkook's performance and enjoying the great atmosphere of the stage.
This is not the first time Jungkook or BTS has received love from the royal families of Middle Eastern countries. Mohammad bin Salman - Crown Prince of Saudi Arabia is even known to be a longtime fan of BTS and also invited the group to perform at King Fahd Stadium in Riyadh, which has a capacity of nearly 70,000 people.
BTS or Jungkook are the first Korean groups and solo artists to have their own concert and stage here. It can be said that it is really proud that BTS and Jungkook are receiving special affection in these strict Muslim countries.
Not only that, the fact that Jungkook or BTS appeared in these countries is also said to bring a positive change to the stereotypes and old social habits in Muslim countries. Many experts have commented that Middle Eastern countries have a rather conservative culture and shows and concerts were banned completely until recently. Allowing BTS to invite Jungkook to perform in their country is a big step in their social reform.