The combination of two artists from two different groups always creates controversy in the fan community, be it of the group or those who are simply Kpop fans. In particular, when the group is more popular, the chaos occurs more often and more serious.
Typically, Taeyang appeared on SUGA's personal show recently to promote VIBE. The problem was that some haters tried to distort the stories after the show that day to create controversy.
Because of this, ARMYs and VIPs had to come together to protect Taeyang and SUGA from these false noises:
Recently, as everyone knows, Taeyang has started building friendships with many members of BTS. He also collaborated with Jimin on his comeback track after 6 years – VIBE. And when choosing promotions for this song, Taeyang also chose SUGA's Suchwita to attend.
The episode of BTS SUGA's Suchwita featuring BIGBANG's Taeyang was filled with memorable and wholesome moments as the two K-Pop icons repeatedly expressed admiration and respect for each other. SUGA also didn't hesitate to mention that BIGBANG was an important part of BTS' growth, and Taeyang replied that he was also inspired by the members of BTS.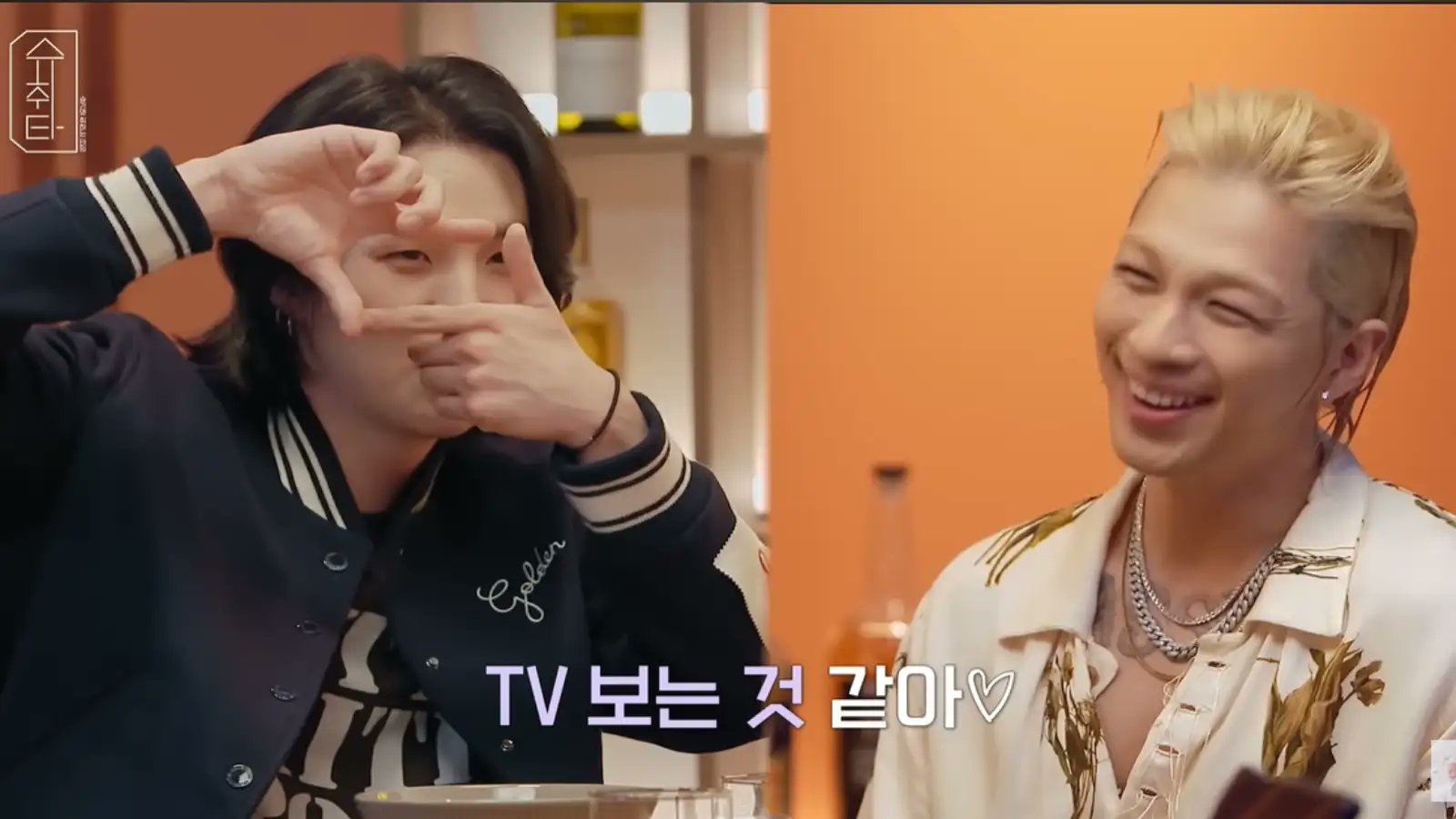 Not only that, SUGA also showed Taeyang that the BTS members really nurtured a dream when they saw BIGBANG perform on big stages during their debut and wanted to become as successful as them. Not only SUGA, but also j-hope and jimin previously admitted that they were fans of BIGBANG for a long time and showed their loyalty.
While fans of both groups loved their interactions between the two legendary groups, some malicious netizens viewed their interactions negatively. Many people started posting comments about the footage of SUGA saying, "It wouldn't be an exaggeration to say that BIGBANG practically made BTS."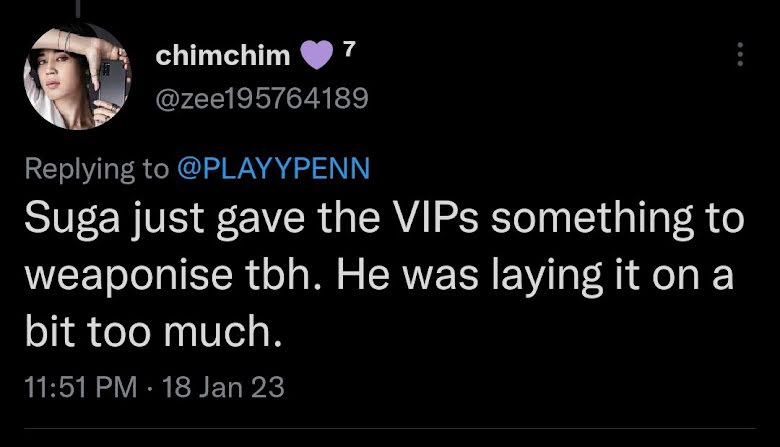 Although those are just normal comments because everyone who has an idol understands this. They also can't help but admit that Taeyang or BIGBANG is a big monument in the music world and it's very right to respect and admire SUGA's seniors.
ARMYs and VIPs then started criticizing these haters, calling them fake fans. They stated that SUGA should be free to express his admiration and respect for Taeyang. The hashtag "#ProtectSuga" started trending on Twitter, urging negative fans to respect their idol's feelings and boundaries.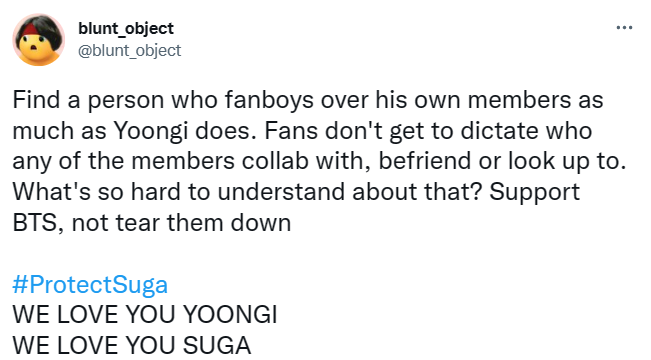 Others were disappointed that the so-called fans prioritized their feelings over SUGA. Many people agree that looking at his happiness and fulfillment when meeting one of his role models can tell how proud he is and how much he wants to show his love for Taeyang.
This incident also shows a lesson that K-pop idols have always tried to do in the past. It is not publicizing the close friendship between himself and other famous artists. That's why even though RM went out to eat with Taeyang many times, the two did not have a photo together. Because they don't want to influence the other party.
There are still haters in the K-Pop community who are overly possessive and just spread negativity. Hopefully more fans can respect the boundaries, personal decisions, and feelings of idols.