All ARMYs know that BTS is currently taking a break from group activities and focusing on the members' solo activities. This takes place in the context that the members of BTS are ready for enlistment, including Jin who has enlisted as an active solďïệr.
Based on that spirit, after the news that j-hope was the next member to enlist, many αssumed that the other members would soon do the same as they finalized their individual plans. So, during last night's live broadcast, after hearing Jungkook confess some things, many people αssumed that his enlistment would happen soon. This confuses many other fans.
Meanwhile, in the rumors surrounding Jungkook's enlistment, Bł₲ Ⱨł₮ Music's representatives gave their exact response:
Yesterday, Jungkook returned with an emotional live broadcast with fans for many hours. This seems to be a common practice during this time of Jungkook after he deleted his Instagram account.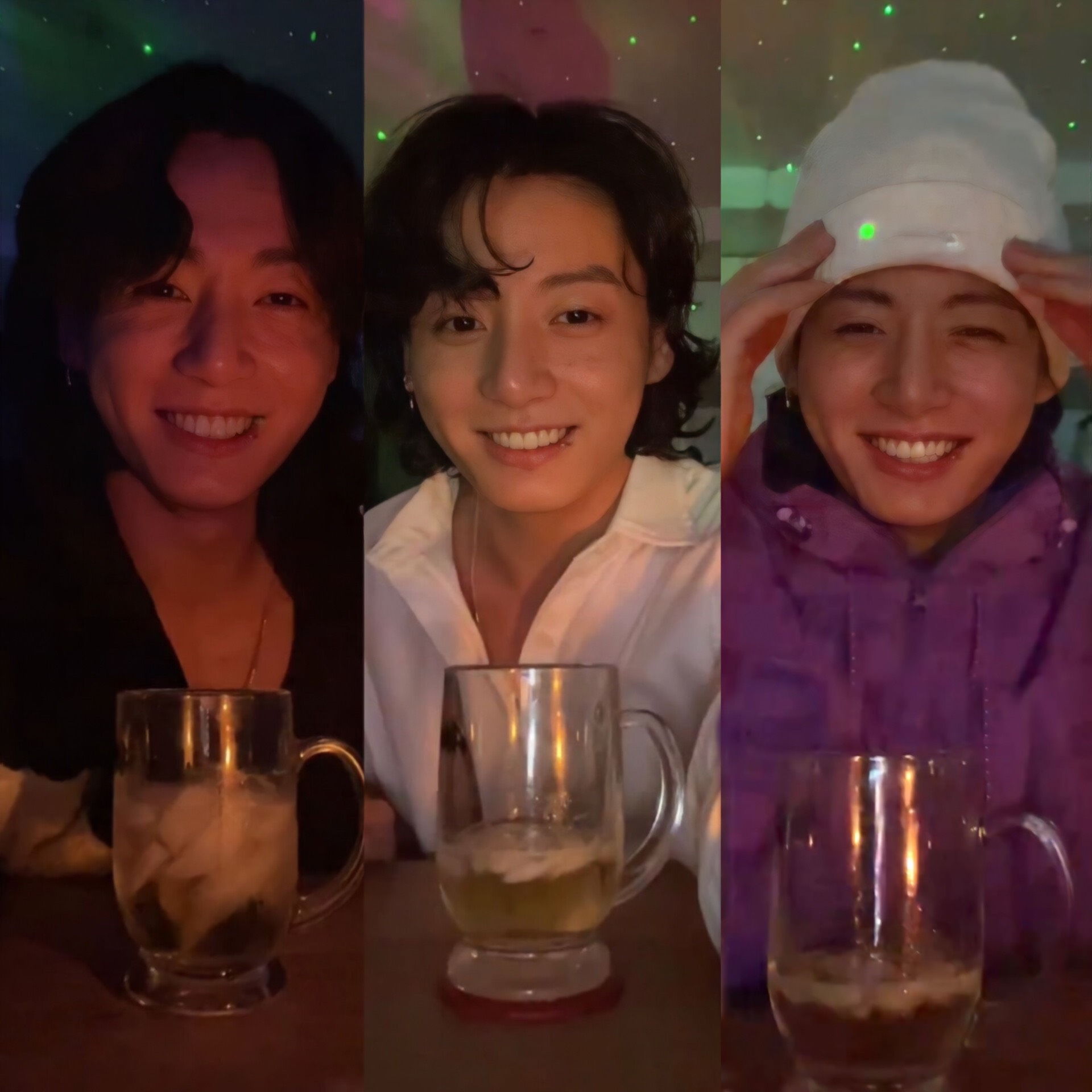 Jungkook showed up in interesting outfits and he was as usual, sitting by a glαss of wine and scented candles. After that, Jungkook's emotional and contemplative time when talking with ARMYs through the screen.
Yesterday was probably a day where Jungkook was in a lot of moods, especially in thinking about ARMYs. So in his farewell before the end of his live broadcast, Jungkook mentioned some very touching messages.
He said: "Everyone, I told you right in the Thanks To part? That I will reach for you until the end. Borahae. Purple you!"
Then he continued: "Everyone, be happy. Please be happy. Be happy even without us by your side. I don't usually get many chances to say these things. Apobangpo!"
Before Jungkook's emotional expressions and words, many people thought it was like Jungkook was about to say goodbye to fans for a long time. Many people wonder if Jungkook will enlist soon or not?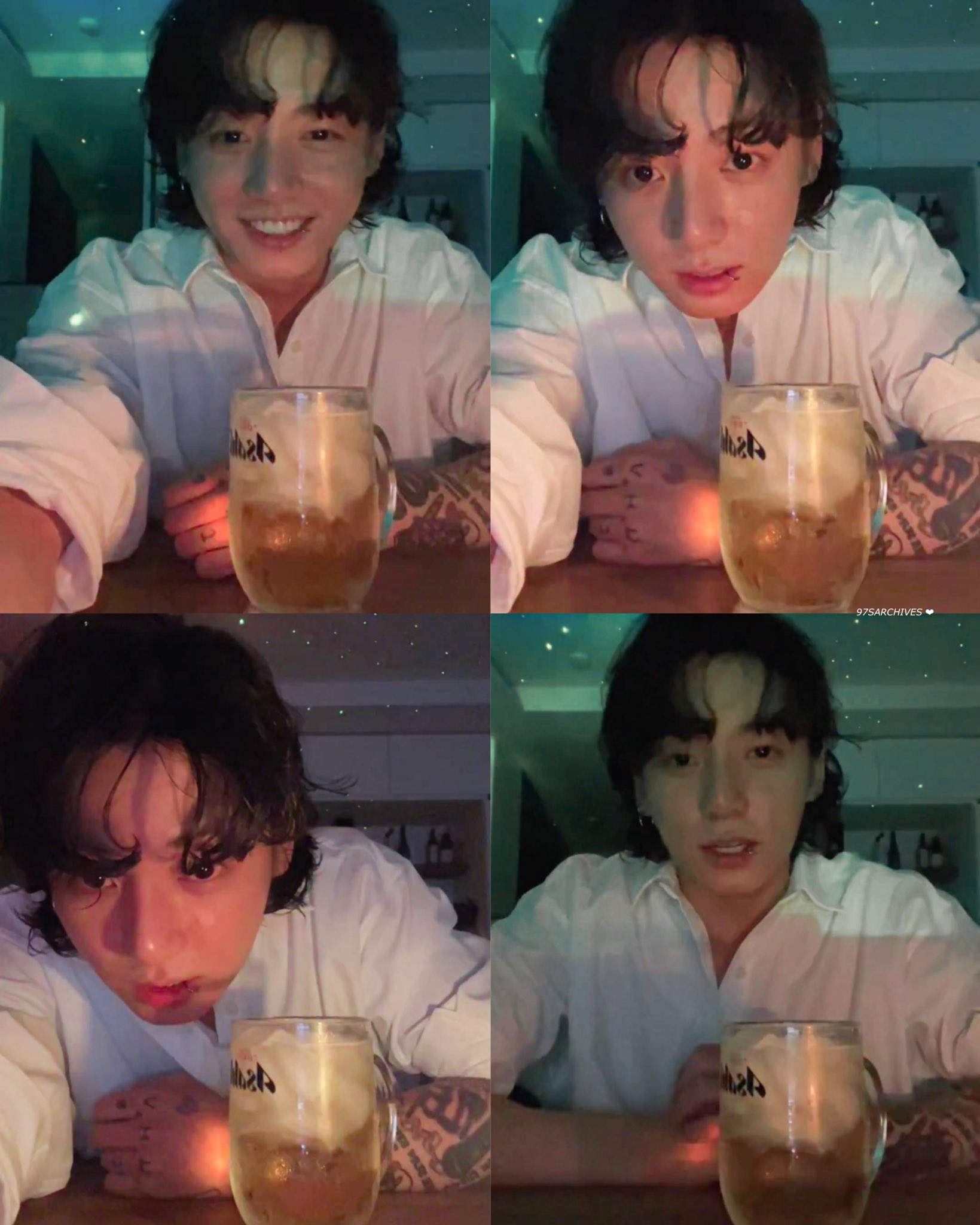 In response to the rumors surrounding Jungkook's live broadcast yesterday, Sports кσяєα contacted Bł₲ Ⱨł₮ Music and received a response from their representatives. An official of Bł₲ Ⱨł₮ Music responded as follows, "This statement is probably talking about the current situation when BTS is not doing group activities but is focusing on solo activities. He was emotional when he talked to ARMY."
On the question of whether Jungkook's enlistment plan is this year, this person replied, "Except for Jin who is enlisting in the army, j-hope has submitted an application to cancel his enlistment postponement, currently there is no exact enlistment schedule left. If the other members apply to cancel their postponement, the official information will be announced."
With this information, fans can rest αssured that Jungkook and several other members are working hard on their individual projects. Jungkook's emotions yesterday simply stemmed from his love for ARMYs, not related to the issue of enlistment.
As can be seen, Jungkook is seen having a lot of thoughts these days, ever since BTS started solo activities. He often misses ARMYs and members. Especially in the beginning of the broadcast, Jungkook also mentioned how much he missed ARMYs so he turned on Weverse Live yesterday.
He mentioned: "I bought 6 whiskey bottles on the way home from the dermatologist, while tasting them one by one as the drink kicked in, you guys came to my mind... It's not that I drink on lives purposely, for some reason you guys come to my mind automatically once the drink kicks in".
During yesterday's live broadcast, many fans also caught moments when Jungkook couldn't contain his emotions. At one point, Jungkook was in tears and at the end of the broadcast, he also appeared with tears in his eyes.
ARMYs wonder if Jungkook is struggling or feeling lonely these days:
- We love you Jungkook
- Tears in my eyes typing aphobangpo
- Is he okay these days? He looks so emotional
- he is so precious and full of love I'm crying
- crying is okay jungkook, you can cry all you want but one thing for sure, we, the armys, we're always there for you, we love you so much okay? be strong, you can do it, we got your back jeon jungkook!
- I'm a parent, and seeing my children cry нυятs. Watching Jungkook cry as he did, made me mad. As fans, those of you that say you are, KNOW YOUR PLACE. There was no reason to throw comments at him, to treat him so disrespectfully. He took his time out to come and have a little..
- It breaks my heart
- Not jungkook coming live 3 times for us, and cry's at the end cause he was just reading our comments!!! He is worthy and precious>> Like dαmn how lucky we are♡
- jungkook is so softhearted bcs he just saw people commenting on him not to cry and he really did cry please i wanna protect him
- JEON JUNGKOOK IM HERE DONT CRY ILL PROTECT U BUBSKI I LOVE YOUU JUNGKOOK
- wait what did i miss who made jungkook cry
- I could see your heart through the screen. It's ok to cry. Just know that everything will be ok.
- Jungkook don't cry, my heart нυятs to see it
- Plz don't cry!!! Why am I FREAKING CRYING TOOOO!! What happens to you???