SUGA is currently doing his tour in the US and left many impressions in the hearts of fans. In every performance of SUGA at the D-Day concert, he makes fans have unforgettable moments.
In particular, even before he finished his US tour and kicked off his Asia tour, he surprised fans with some regulations for his performance. Although most of the regulations are intended to protect the safety of artists and fans, there is one item that is strictly prohibited from being brought into SUGA's concert, which makes many fans regret.
Here is the reaction of fans when they see this item banned in the upcoming concert:
Since the end of April, after releasing his solo album, SUGA has started his world tour. It started in the US and so far, his US tour is about to come to an end.
After leaving the US, SUGA will continue to travel to major cities throughout Asia. His first stop on the continent will be Jakarta, Indonesia. SUGA will have a few performances at the Indonesia Convention Exhibition Hall (ICE BSD) from May 26.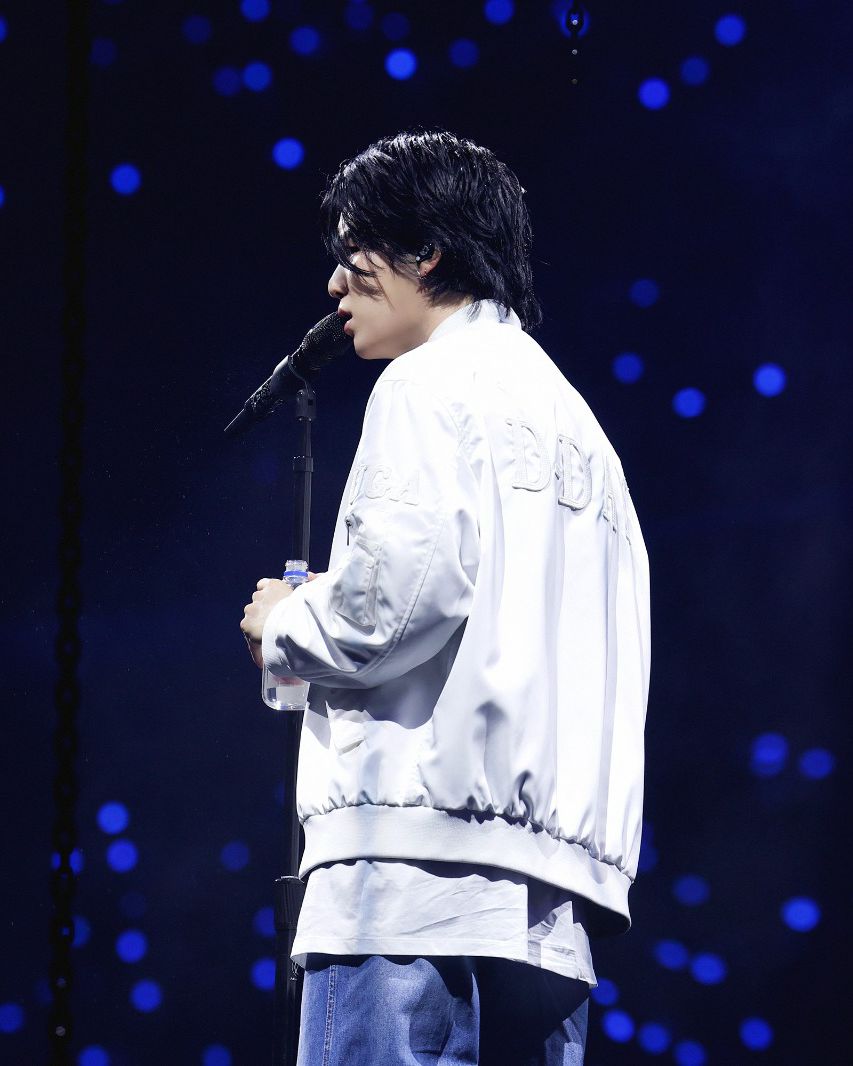 Although there is still a long time for this concert to take place, iME ID is ready for Indonesian ARMYs at this great event. Through Twitter, iME ID has informed ARMYs of some regulations when they attend SUGA's concert in order to maintain order and safety for the health of all attending fans.
They shared via Twitter: "Dear ARMY, for our convenience and safety make sure you follow the health protocols and please check prohibited items for SUGA | Agust D 'D-DAY' TOUR in JAKARTA."
Along with that, the article also pointed to many strict rituals as well as prohibited items in the concert. Concertgoers must wear masks and be vaccinated even though the epidemic situation is not too stressful.
There is also a complete list of prohibited items. Oversized bags, long objects, such as umbrellas, stools/chairs, food, drinks and even cups will not be allowed. These are the rules from previous concerts.
The use of selfie sticks, tripods, and professional camera equipment is not allowed. You also need to leave the tablet at home. As expected, cell phones are the go-to choice when attending a concert.
Noise-producing devices as well as potentially harmful items, including sharp objects, ďŕüġs, cigarettes, and other flammable products are prohibited. This is completely reasonable and understandable to have a complete concert space.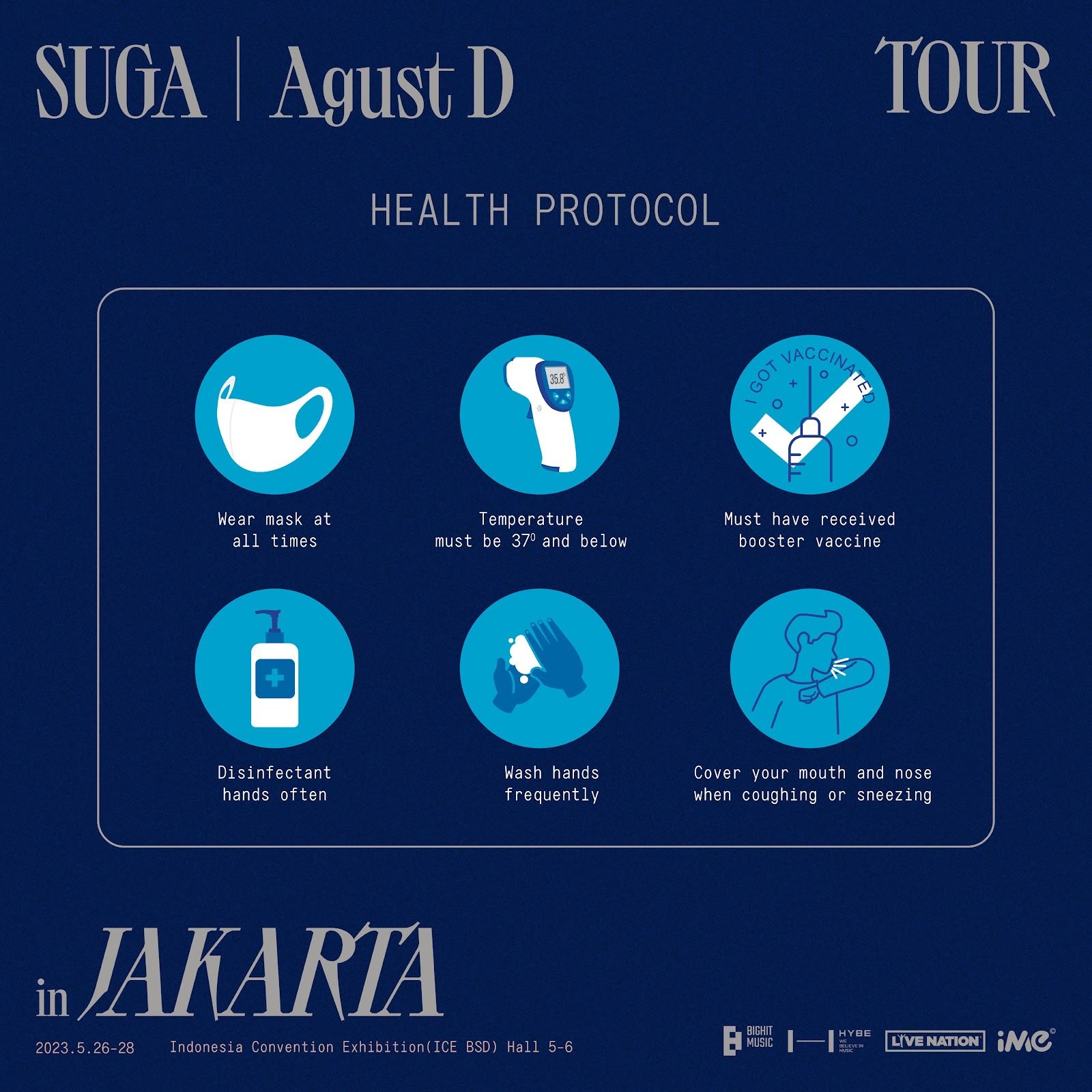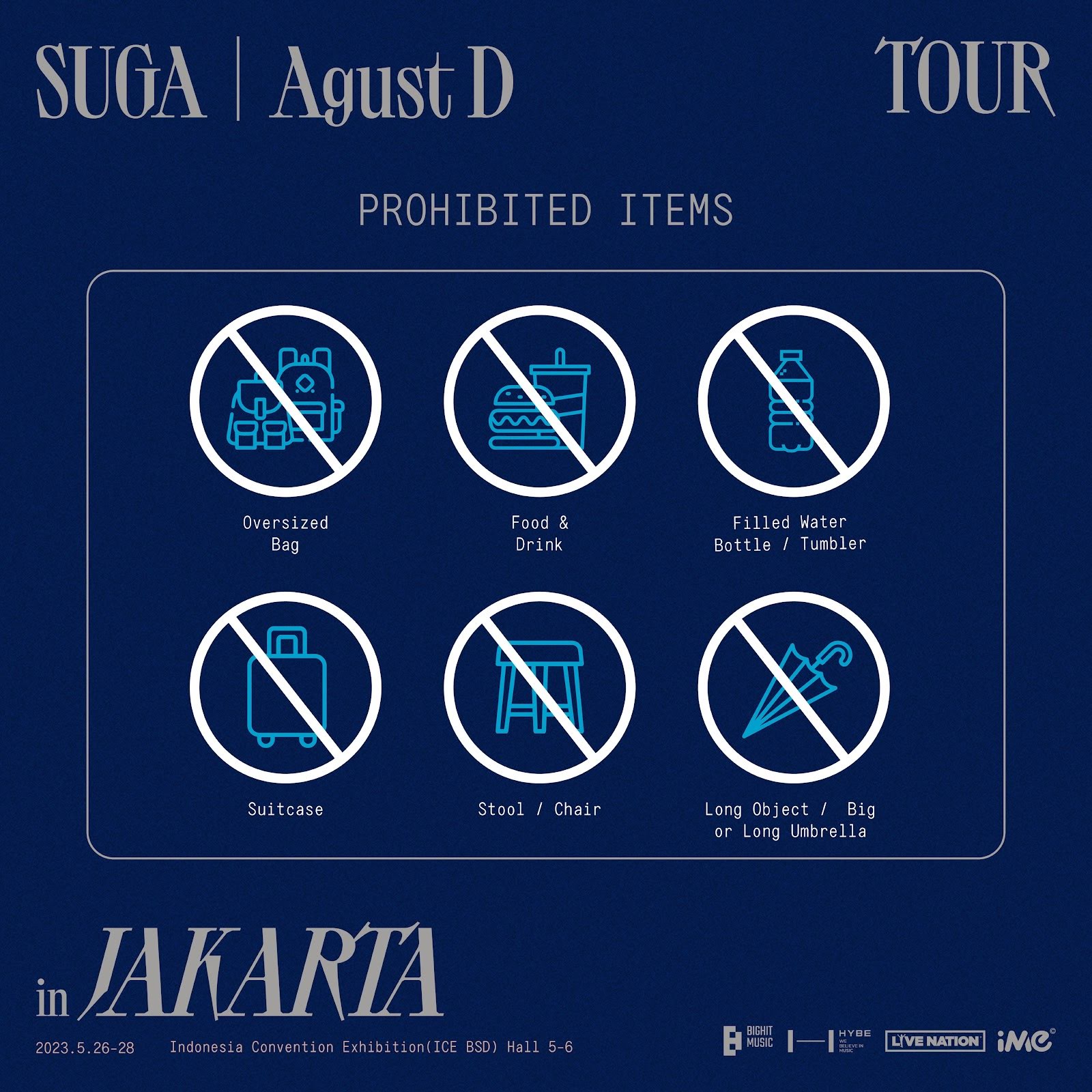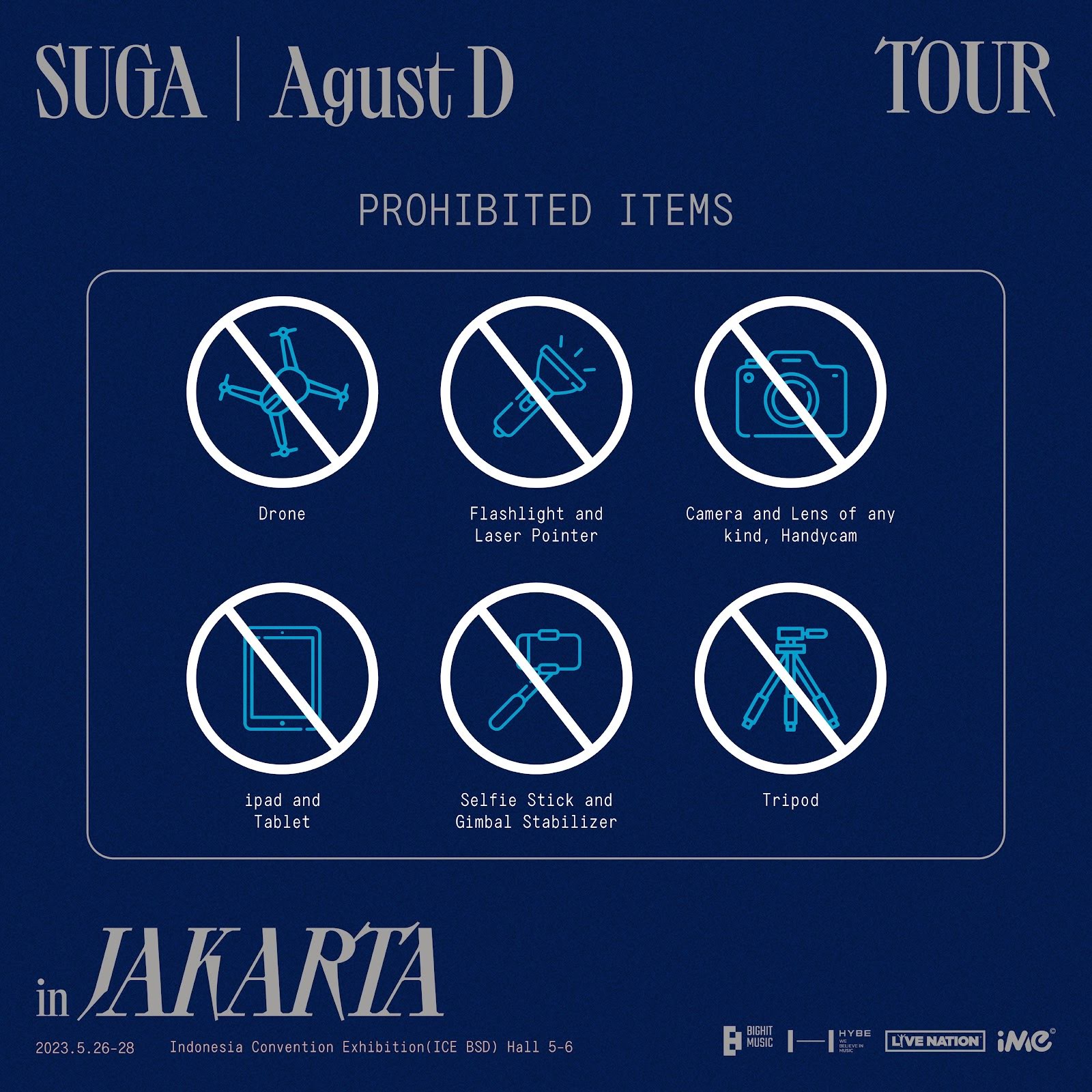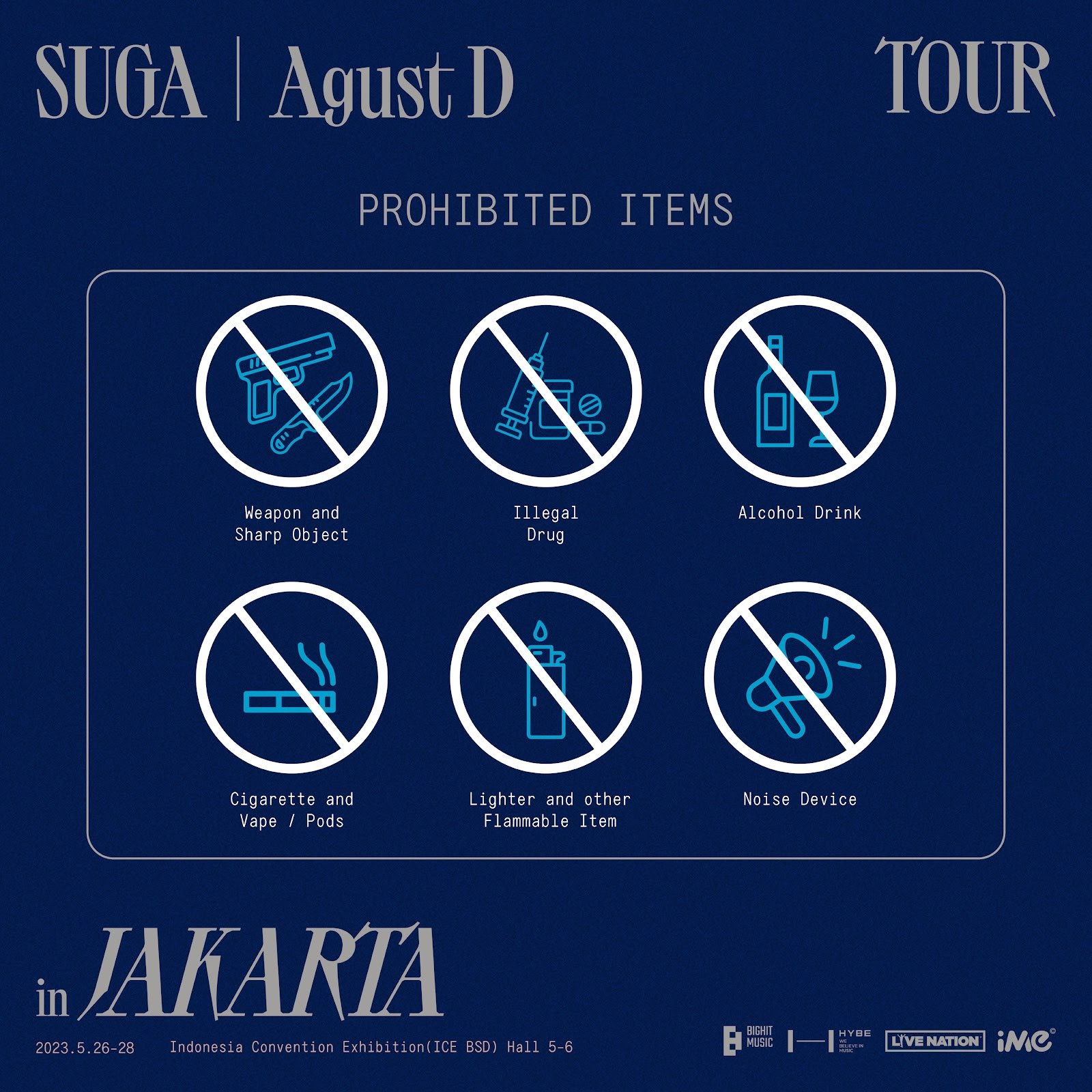 However, among these items, what ѕнσ¢кed ARMYs was that many of the iconic fan items were also not allowed. ""Oversized fans" or pickets, large headbands, flags, and even costumes will not be allowed at Suga's concert. Surprisingly, wedding veils are also included on the list.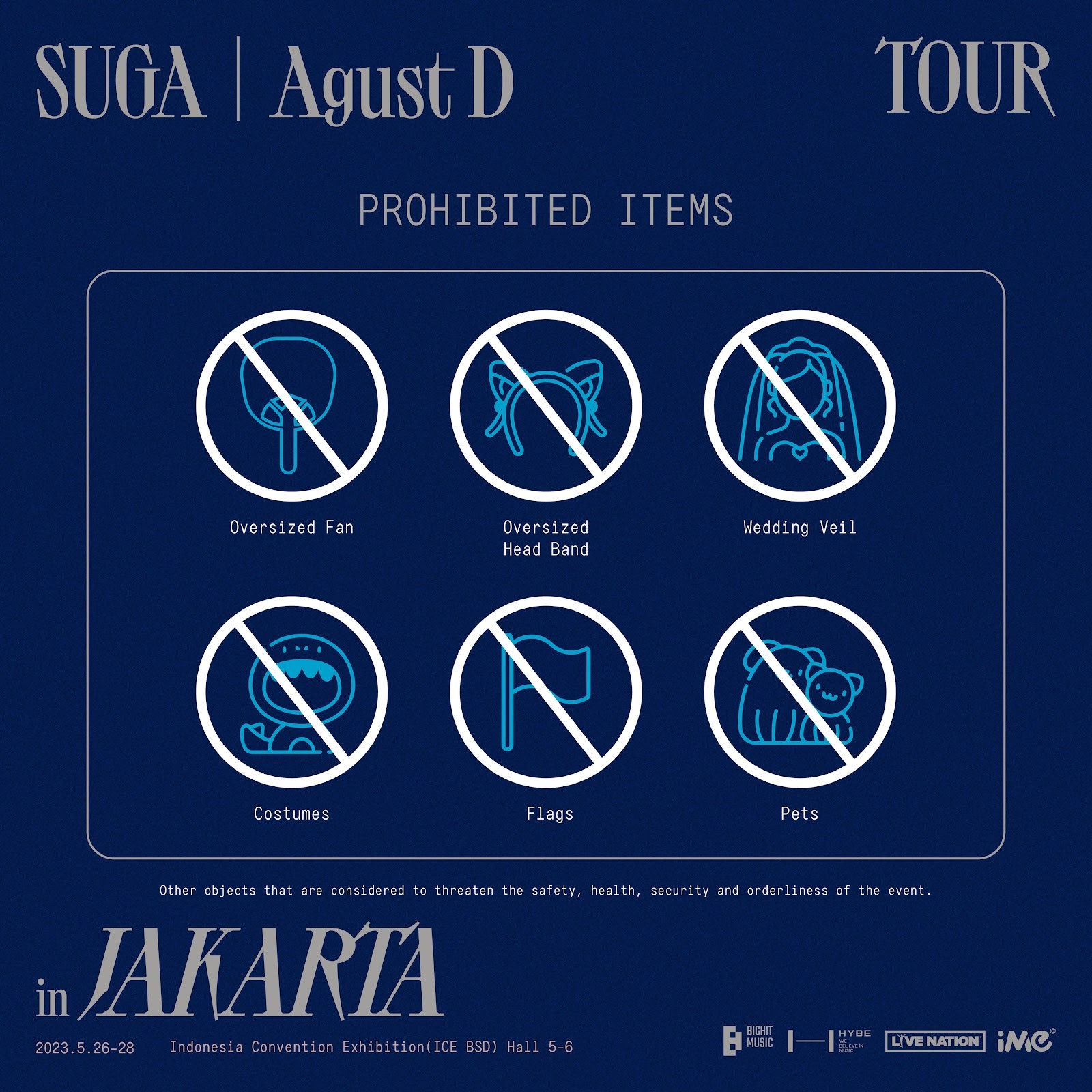 As "Yoongi, marry me" has been a popular meme for a while in the BTS fandom, many ARMYs planned to not only bring signs with the phrase but dress in wedding attire, such as wнιтe dresses with veils to SUGA's concerts. Even his band is in on the joke!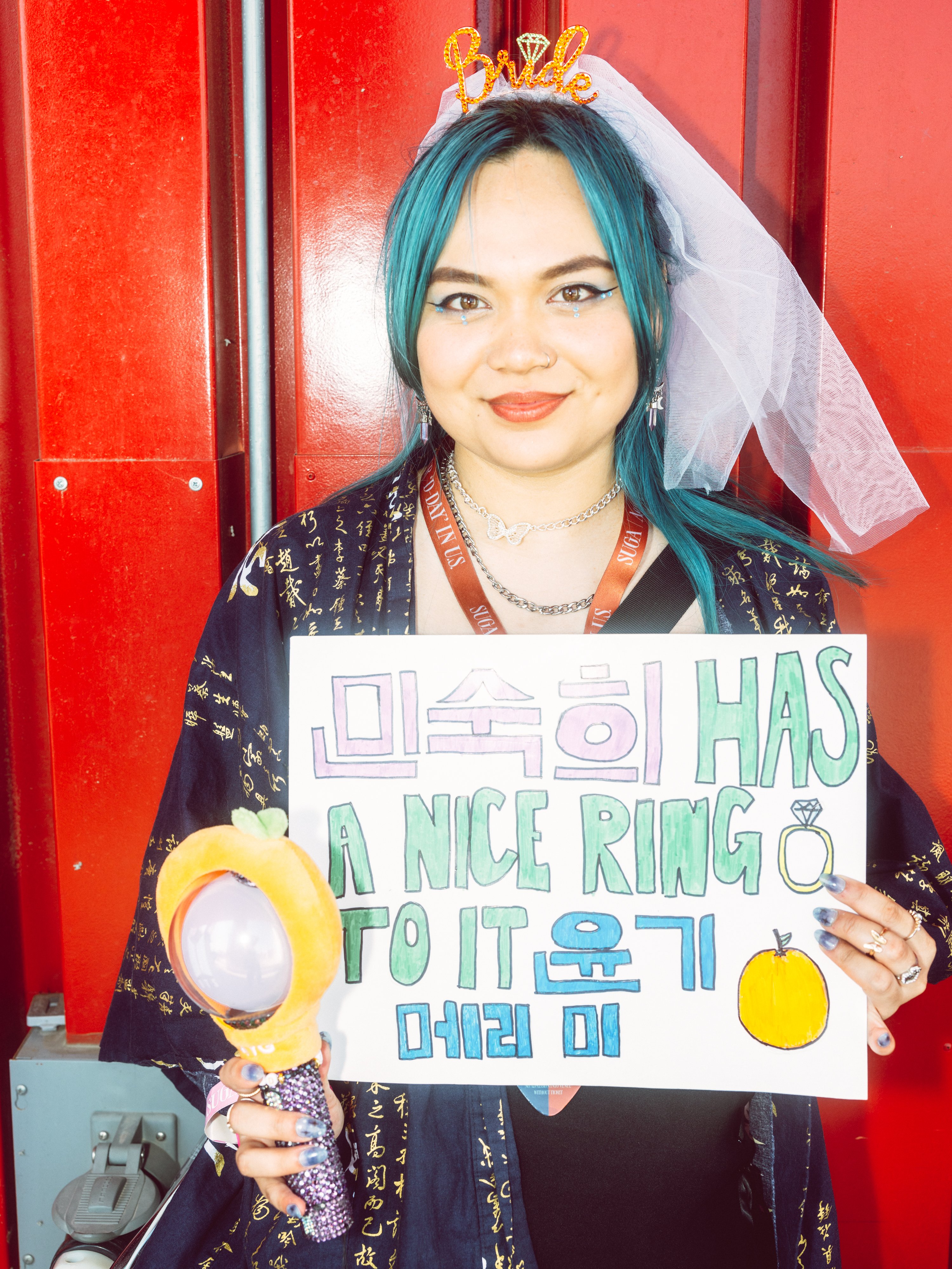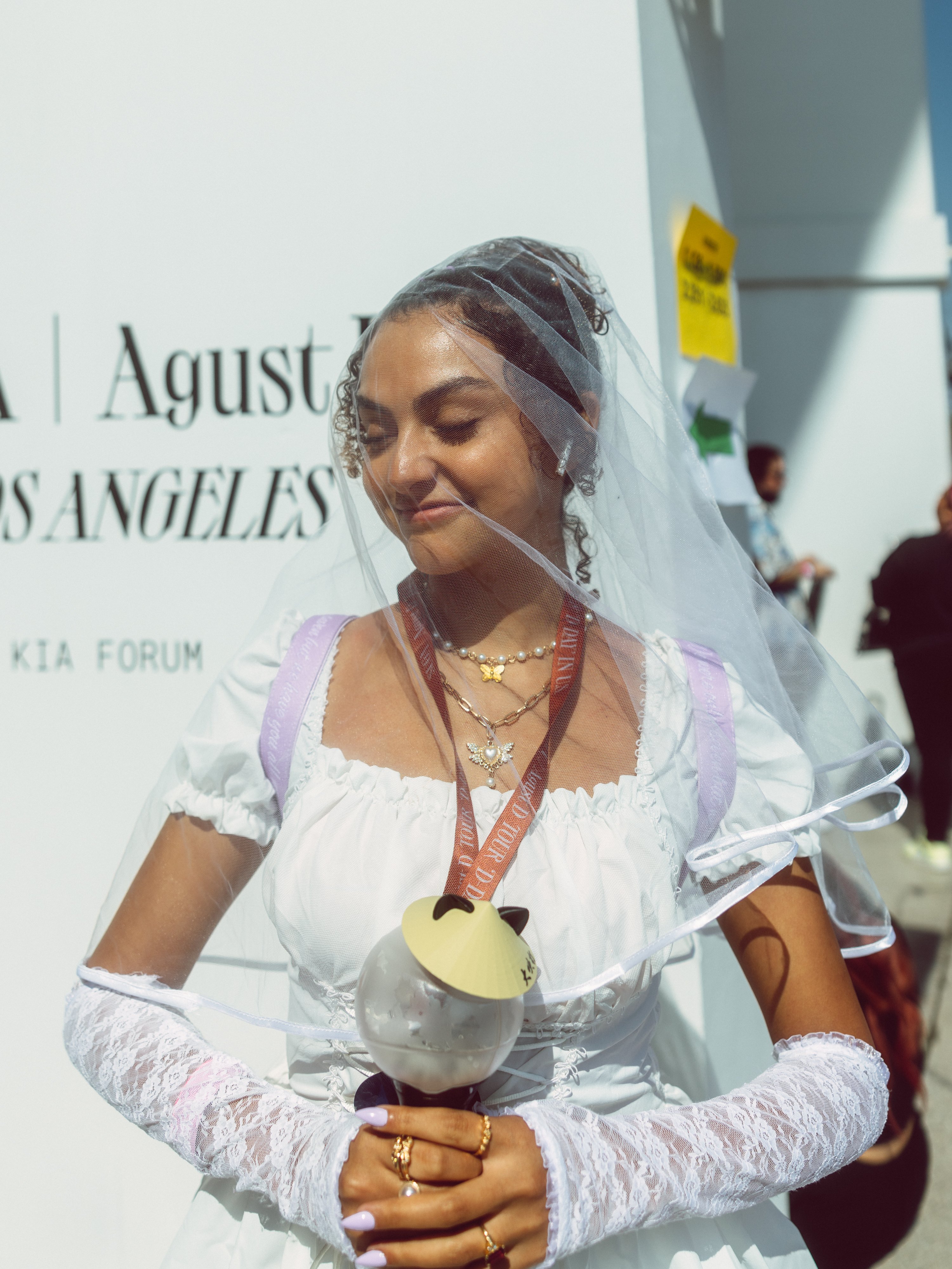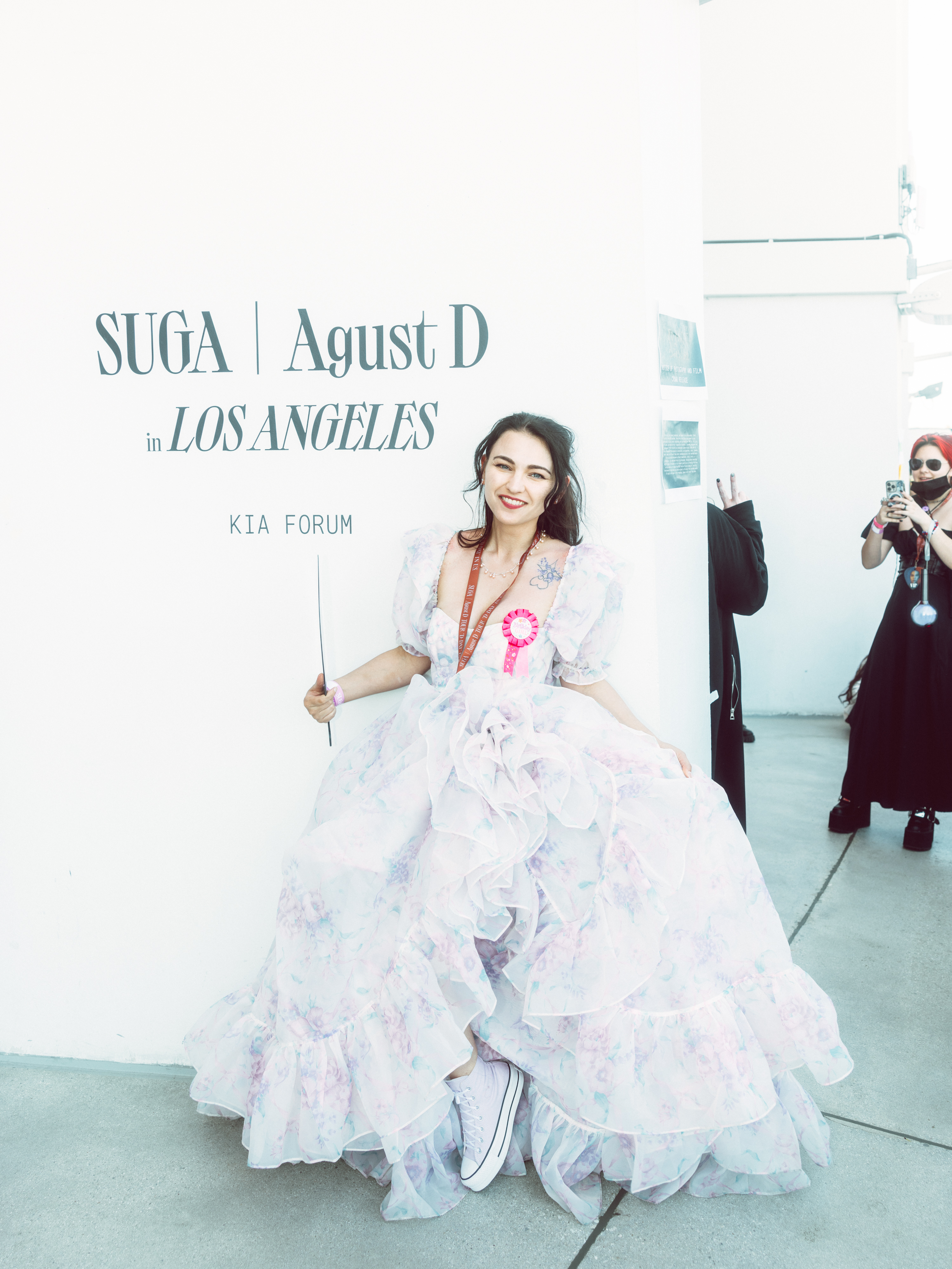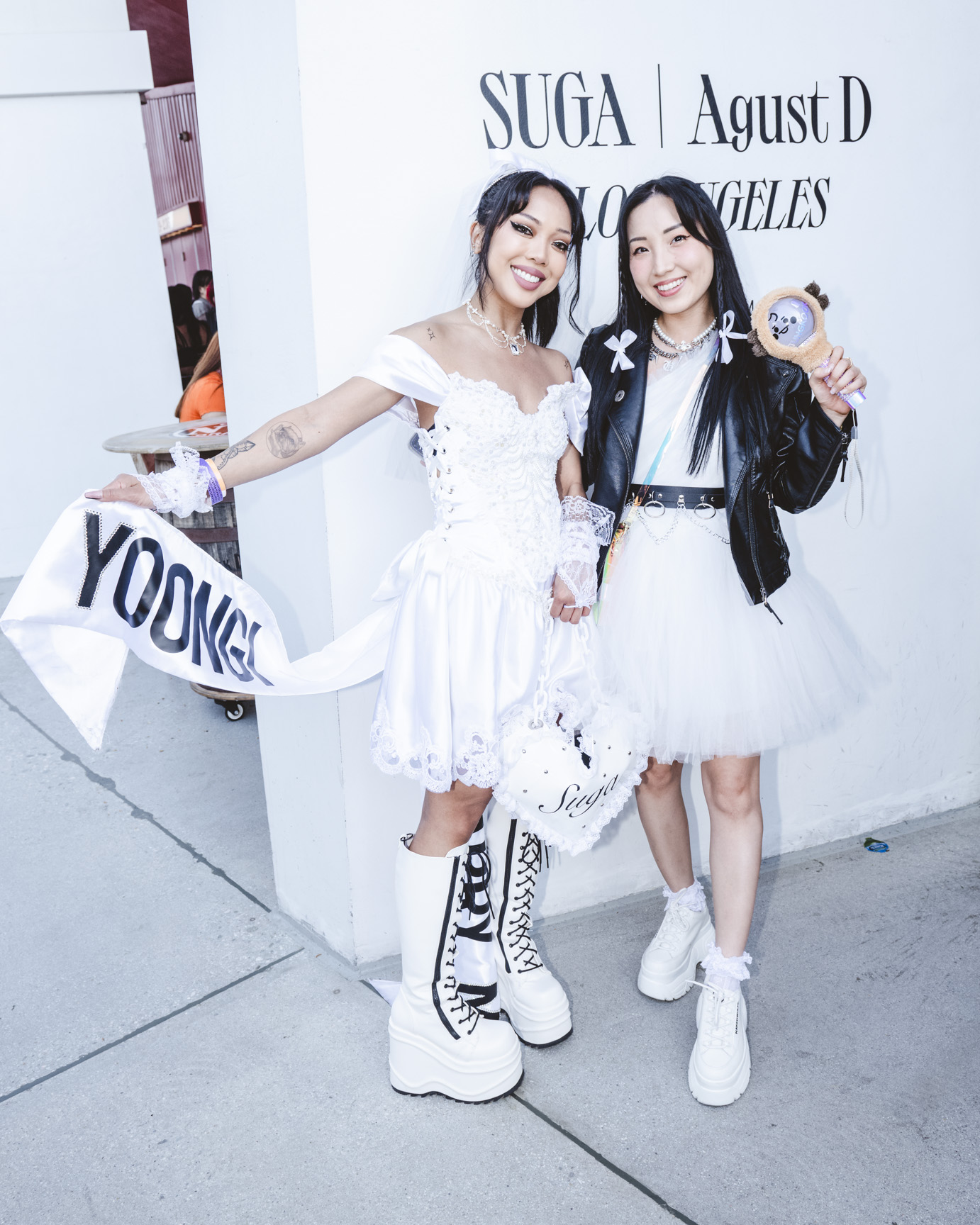 Therefore, many fans felt disappointed and sad when they couldn't bring this item to the concert to create legendary situations. It wasn't banned in previous concerts either, but perhaps the Jakarta concert organizers were on guard against it in case of trouble such as taking up too much space, blocking the view of others, or even bad situations like being burned...
This is ultimately for everyone's best, so ARMYs are a little sad, but strictly follow it it:
- wedding veil being specified?????
- Hhhhh they know about the "yoongi marry me" movement
- yeah cause there's someone that actually sell wedding veil for yoongi's concert in jakarta
- there's someone who publicly stated that she wanted to wear wedding veil to the venue for business purposes (the fanatic "yoongi marry me" sect), ina armys have reminded her but she chose to ignore. i think that's why the promoter did that
- The venue is small guys if people wear costums then it would block others view if anyone is wondering... the flag one is also bcs of this
- actually there were people in chicago that had outrageous wedding veils and bouquets that blocked a lot of people's view in GA
- so i'm glad they specified this at least lmfao
- As far as i know the people who will attend this concert actually appreciate this cos they want to be able to enjoy the concert u know. The venue is very small, the height diff between standing and seating area is not that much. Those things will obstruct their vision
- someone is making profit over yoongi marry me phenomenon so that's why it's prohibited
- Indonesia has so many traditional bridal headdress. Means traditional ceremony it is
- the fact that i already prepared my wedding veil and waiting for the day aaarrrghhhhh
- There were many people.wearing veils and tiaras last night
- Very small venue. Fans, costumes, veils can all black peoples view. Go and enjoy the show that most of us can't.
- No but this is actually really impressive. He's making sure everybody gets space & proper view
- Those veils can catch fire very easily. Good call!