Ever since the Wooga Squad was formed and gained popularity, fans have loved all of the group members including Park Seo Joon, Park Hyung Sik, Choi Woo Shik, V, and Peakboy. Especially in which Choi Woo Shik and V make fans most excited when the two have adorable interactions like the youngest members among them.
Recently, actor Choi Woo Shik also attracted attention after this action reminded fans of V at a Paris fashion event in fяαи¢є. Thereby, fans are immersed in the loveliness and great friendship of both celebrities.
Here is a situation where the actor reminds fans of V despite being in two places on earth:
Over the years, Wooga Squad has become a fan favorite when it comes to bringing together a group of famous K-biz friends and they always bring us great interactions. Just earlier this year, V, Choi Woo Shik, and Park Seo Joon even made netizens laugh with their moments in Jinny's Kitchen.
After that, they also shared a series of pictures of each other hanging out, eating, and participating in projects. It shows a close relationship and V has also commented that Wooga Squad is the second most important group of friends besides BTS for him.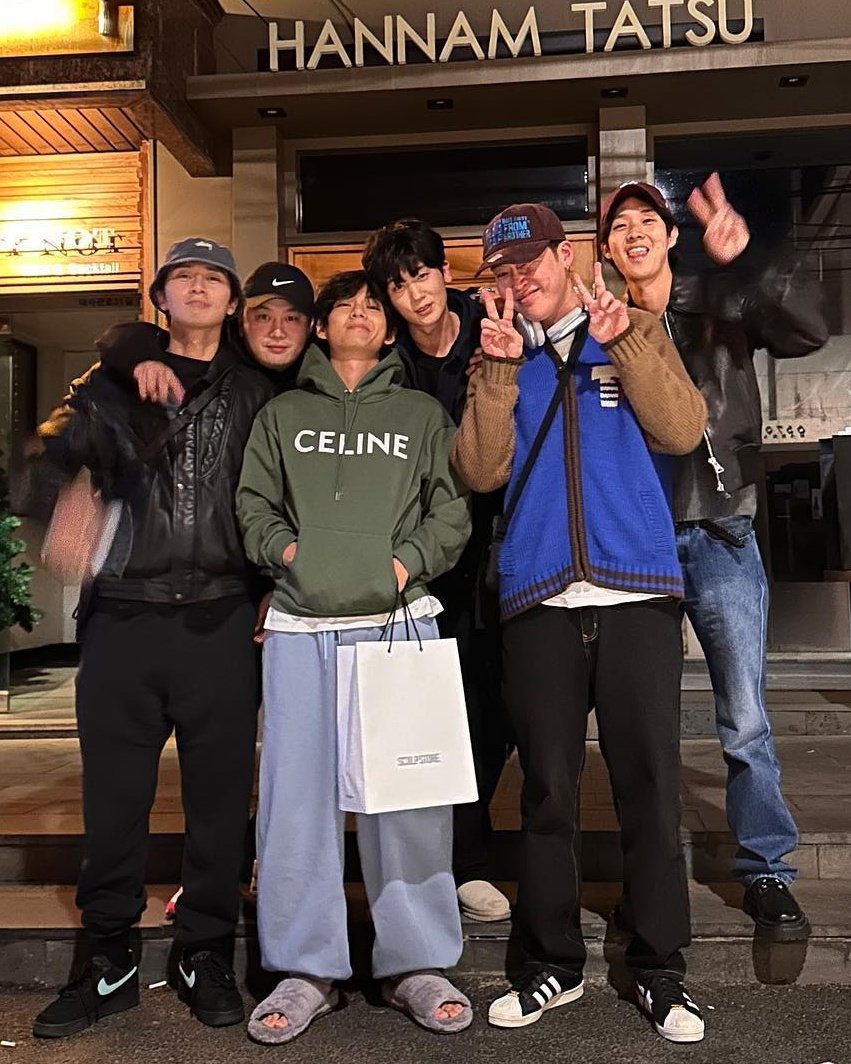 Meanwhile, Choi Woo Shik proved to fans how close their friendship is. Recently, he appeared at an AMI fashion event in Paris and he made fans remind him a lot of V besides his appearance.
Specifically, on June 22 (local time), Choi Woo Shik attended a fashion show and of course, he looked extremely handsome in the outfit as well as showing his charming personality in front of everyone. In particular, photos and videos from fans and the media have shown Choi Woo Shik's true beauty, both inside and out.
But one video shared by French ELLE went viral as fans pointed out that they felt V's vibes through Choi Woo Shik. Netizens noticed that Choi Woo Shik's style and facial expression resembled V's iconic "Tata Mic" facial expression.
When the video was posted, netizens couldn't help but notice the similarities in Choi Woo Shik's behavior, especially with the returning V's iconic meme:
Netizens also leave many comments about their similar facial expression:
- when it comes to personalities they are very much alike. facial expressions too.
- they both have tata mic face too.
- i am glad that taehyung have choi woo shik.
- Choi woo shik acts exactly like taehyung because they are close friends I can't TTTTTTT
- Taehyung and choi woo shik the cutest budd̾i̾e ̾s
- I don't about y'all, but i see tata mic vibes
- Wooshik is so Taehyung coded and Taehyung is so wooshik coded. soulmate
- wooshik and taehyung are just the same person in different fonts
- I like their connection from soul
Of course, that could just be a coincidence, but netizens also pointed out that this similarity is frequently repeated between the two celebrities. V and Choi Woo Shik also share many similarities in personality and introspection through their interactions together on variety shows.
That is enough to show that they are really close and like brothers in each other's family!