A few hours ago, Jungkook did his late-night live broadcast and interacted with fans. He chatted with ARMYs about his recent changes.
One of them is the fact that Jungkook has done some new things on his face and this makes him fear that some fans will not like it. Jungkook seems to know how many fans have opinions about the things he does.
Not only that, but Jungkook apologized to his fans if they didn't like what he did to his body. Meanwhile, ARMYs' reaction was the opposite of his fears:
Today, Bł₲ Ⱨł₮ Music announced and confirmed that Jungkook will be releasing his new solo song, titled Seven - an upbeat summer track. The song will be released on July 14, as predicted by K-media earlier.
Right after Bł₲ Ⱨł₮ announced the release of his solo track, Jungkook did his live broadcast to chat with fans. He seems to want to chat with ARMYs about the new song release as well as share what's going on in his life these days.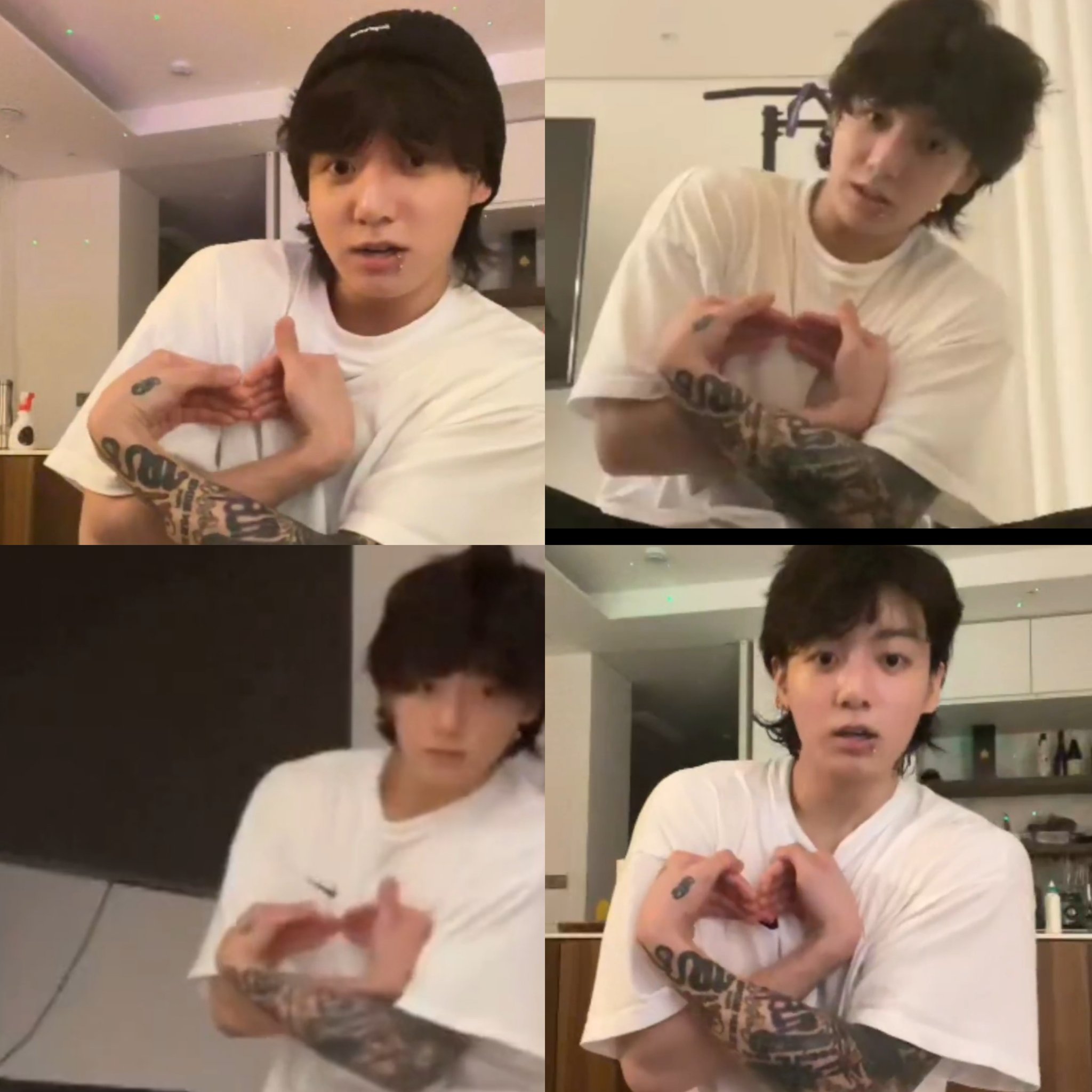 At the beginning of the live broadcast, Jungkook cutely mentioned to fans about the new song and even his plan in the future. He told that: "I'm a̾s̾suming all of you are aware. I don't know what kind of article was uploaded but all of you know huh!
The single comes out on the 14th! It's quite great and I'm so excited. I believe you guys must've waited for it a lot ~
I just want to let you know that I am working on my album too, just wanted to let you know since I'm also working on my album, so don't feel sad that it's a single~"
Meanwhile, Jungkook also shared that to prepare for the promotion of his new solo album, he is on a weight loss regime and that has fans worried about his health. However, maybe Jungkook will know how to keep himself in good health so fans are still cheering him on.
Not only that, Jungkook also mentioned a new change in his appearance. It's about him adding a new lip piercing. Jungkook showed ARMYs his newly pierced piercing on a live broadcast.
However, with that, when it comes to the lip piercing, Jungkook also υиєχρє¢тє∂ly apologized to fans because he knew that some ARMYs wouldn't like it when he got another piercing. He said that: "I got another piercing here but.. there might be ARMYs who not like it but... I'm sorry, I really wanted to get it!"
Jungkook has publicized his tattoo, lip piercing, eyebrow piercing many times before. Of course, besides receiving a lot of praise for his confidence in breaking stereotypes about them, Jungkook has also faced a lot of criticism and criticism.
In 2019, when he first revealed his tattoos, Jungkook was criticized for revealing too many tattoos on his hands even though they were meaningful symbols. After that when he continued to pierce his lips and pierced his eyebrows, many people even expressed disgust with him. Many people like Jungkook's innocent and charming visual, making it difficult to accept a male idol with a gang visual, even many people consider it "rude".
But as time pa̾s̾sed, as the support of ARMYs, some political officials, tattooists and Jungkook himself brought a respectable and iconic image at major events, many people changed their mind about tattoos and piercings. Now, fans and netizens think that Jungkook's preferences should be respected. It included piercing and tattooing anywhere on his body.
Therefore, with Jungkook recently adding a lip piercing to his face, fans are even more excited instead of not loving it as much as he was worried. Below the live broadcast there are many comments supporting his action:
- Who cares abt their opinion. You loved it you got it and we loved it too. The new lip piercing looks really cool n s3xy
- I'll be collecting all those armys who dislike it and destroy them
- WHO CARES WHAT ANYONE ELSE THINKS … WE LOVE IT
- His face after he apologized. You do whatever makes you happy bub
- DO WHATEVER YOU WANT BABY! I will protect you
- He is just the sweetest.. he should never have to say sorry for things like this
- IT'S LOOKING SOO PRETTY ON HIM
- Do whatever makes you happy my love
- DONT APOLOGIZE YOU LOOK LOVELY HANDSOME PRETTY STUNNING GORGEOUS BREATHTAKING BEAUTIFUL
- WHO DOESN'T LIKE IT?????? I LIKE IT SO MUCH
- I really admire him. Just getting my ears pierced ones had my soul taken away by fear
- DON'T BE SORRY YOU LOOK SO CUTEE
- Ahhhh babe don't mind them.....other armies can get the
- Do as you please, love. No one has the right to stop you <3
- My god, never be sorry for anything you want to do! You give courage to so many ARMYs to be themselves!
- it's look so pretty on you!! don't bother what people might think about what you like! do what you want baby
- NEVER APOLOGIZE BABYYY WE SUPPORT AND LOVE U NO MATTER WHATTTT, YOURE STUNNING AND SO COOL